POLITICAL RIGHTS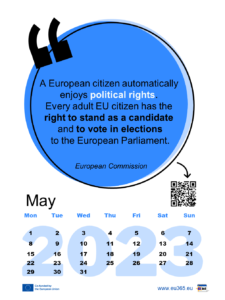 Learners will be able…
… to immerse themselves in the political rights within the EU.
… to develop awareness of their political rights.
… to understand the importance of political rights.
You need:
35-45 minutes
2-25 people (no limit)
Computer or mobile devices with internet access
Access to website to create games or quizzes (e.g. Genially, Kahoot)
Instructions (Step-by-Step)
Use the calendar with the current quote as focus point.
What does political rights mean within the EU? Who is responsible for it? What guidelines are there? What is the Parliament anyway? Etc.
Ask your learners to write down a few questions about the Eu and the political rights they have for living in this Union.
Now let them do a little research to find the answers to their questions.
For the next step, let them get together in small groups from 2 to 5 members and let them create a little online game or quiz where they put their questions and answers together. You can choose every website you want, but genially or Kahoot would be a good tool for this.
At the end, everyone should come back to the large group and compete against each other or try out the games, so they can start to gain different new information on the topic.