SOLIDARITY GROUP DISCUSSION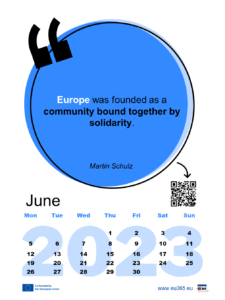 Learners will be able…
… to define solidarity.
… to recall how solidarity works in everyday life.
… to adopt more solidaric behaviours.
You need:
15-25 minutes
2-25 people (no limit)
Cards or sticky notes (optional, but recommended for big groups)
You can print the PDF that includes the questions/prompts, but you can also have a completely informal discussion with your learners.
Instructions (Step-by-Step)
Use the calendar with the current quote as focus point.
"WHAT DOES SOLIDARITY MEAN TO YOU?"
Ask your learners to write down what solidarity means to them. If you have a small group of up to 6 persons, they can share their thoughts verbally only.
If their statements are close to the original definition, approve their statements. If not, share the real definition with them:
"Solidarity means support by one person or group of people for another because they share feelings, opinions, aims, etc." (Oxford Learner's Dictionary 2022)
"WHY IS SOLIDARITY IMPORTANT? DO WE NEED IT?"
Ask them to talk about the importance of solidarity and let them define the reasons why this state of mind is important for society and individuals.
"NAME AN INSTANCE WHERE YOU HAVE BEEN SOLIDARIC OR WHERE YOU WISHED YOU WOULD HAVE BEEN MORE SOLIDARIC."
Ask the learners to name one instance in the past where they behaved solidaric – or alternatively, where they wished have shown more solidarity with someone.
"WHY DO YOU THINK, SOLIDARITY IS SOMETIMES DIFFICULT? OR DO YOU THINK IT IS EASY?"
Ask them if they feel like showing solidarity is a challenge or if it is something that comes naturally to them.
"HOW CAN WE FOSTER SOLIDARIC BEHAVIOURS? WHAT NEEDS TO HAPPEN?"
Ask the learners how solidarity can be improved. What would they need? How can they support other people and motivate them to be more solidaric?
The questions are provided as written prompts, you can download the PDF below for easy printing if wished.