MY GREEN ORGANISATION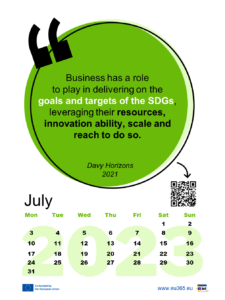 Learners will be able…
… to define the meaning of green professions.
… to assess how green the professions or institutions they attend are.
… to understand the importance of green jobs.
You need:
25-35 minutes
2-25 people (no limit)
Pencils in green, orange and red for each participant
One piece of paper in green, orange and red
Instructions (Step-by-Step)
Use the calendar with the current quote as focus point.
What green actions does my organisation already implement?
Ask your learners to think about the actions their organisation/institution/employer does to help the environment.
Now hand them a green, an orange and a red pencil and ask them to write down, all by themself, which things they think are important to do as an organisation/institution/employer to help the environment, in orange which actions could be good but also bad for the environment and in red the actions which would be very negative for the environmental development.
In the next step, let them come back together and let them discuss the different definitions.
Finally, they should collect the most important actions on one green, one yellow and one red paper and create an environmental traffic light together.